Anti-police protests that turned violent in downtown Atlanta on Saturday night company impacted and took money from the workers, according to some who work in the city.
Masked activists dressed in black threw rocks and lit fireworks in front of a skyscraper that houses the Atlanta Police Foundation, smashing large glass windows. They then set fire to a police car, smashed other windows and vandalized walls with anti-police graffiti as stunned tourists dispersed.
Caution tape was also wrapped around several buildings, including a Wells Fargo location that suffered multiple shattered windows, photos at the scene showed.
Lillian Copeland, who worked at a nearby restaurant that was forced to close during the violent protest, told WSB-TV the chaos interrupted what was supposed to be a busy night and hurt her wallet.
ATLANTA DOMESTIC TERRORISM SUSPECTS SEEN SMILING OR STONE-FACED IN PHOTOS BY ANTI-POLICE RESERVATION RIOT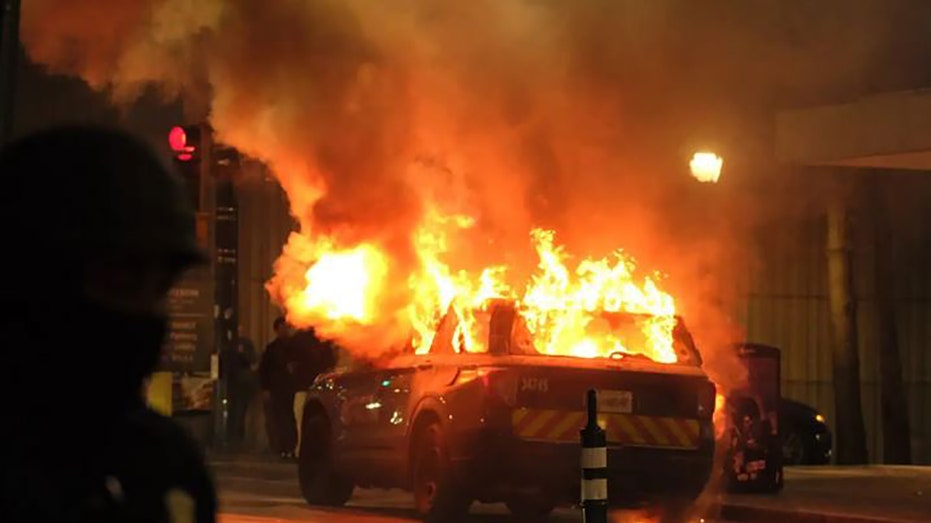 "They had a lot of reservations about the books and everything," she said. "So I expected to do, you know, money."
Sam McClendon, a worker in a downtown CVS, told the station he was also affected after the store was forced to close.
"We had to close the shop," he said. "It's my job. It's how I make my money, and it affects me."
Protests erupted on Saturday in response to the death of a 26-year-old environmental activist Manuel Esteban Paez Terán.
Atlanta mayor berates those who claim anti-police riots aren't violent: 'HOME TERRORISM'
Teran was shot and killed by the Georgia State Patrol after authorities said Teran shot and injured a state trooper who was trying to clear protesters from the construction site of a new safety training center community dubbed by activists "Cop City".
Atlanta police on Sunday identified the six suspects — all but one from out of state — involved in the outburst of violence.
The suspects included Nadja Geier, 24, of Nashville, Tennessee; Madeleine Feola, 22, of Spokane, Wash.; Ivan Ferguson, 23, of Nevada; Graham Evatt, 20, of Decatur, Georgia; Francis Carrol, 22, of Kennebunkport, Maine; and Emily Murphy, 37, of Grosse Isle, Michigan.
GET FOX BUSINESS ON THE ROAD BY CLICKING HERE
The six are each facing a slew of misdemeanor and felony charges, which include second degree criminal damage, first degree arson, interference with government property and domestic terrorism.
Danielle Wallace of Fox News and The Associated Press contributed to this report.