A federal jury in Washington returned a guilty verdict against a rioter seen in footage on Monday of the January 6 assault on the capitol put your feet on a desk in the office of Nancy Pelosi, then Speaker of the House.
Photos of Richard "Bigo" Barnett sitting in an office chair with his feet on the desk quickly became among the most infamous to emerge at the start of the Capitol riot – emblematic of the pro-Trump mob trashing the headquarters national government.
Within days, Barnett was arrested and charged in January 2021, with Acting Attorney General Jeffrey Rosen calling the Capitol photos of him "disgusting." The jury took just hours to return Monday's guilty verdict against Barnett on all counts, including felonies of obstruction of official process and civil disturbance as well as several misdemeanors.
Prosecutors said Barnett entered the Capitol with a 950,000-volt stun gun, though he was not charged with carrying out any violent attacks during the insurgency.
Barnett was among the first waves of rioters to be arrested as part of the Justice Department's investigation into the assault on the Capitol, in part because he admitted in a television interview outside the building that he walked into Pelosi's office and left her a note that read "Nancy, Bigo was there you bitch."
He was also seen in the interview carrying an envelope from Pelosi's office that was addressed to the then-Rep. Billy Long and when asked if he stole it, he said: "I didn't steal it. I bled on it because they were massaging me and I couldn't f— — see, so I thought I'm in her office."
"I put blood on her desk. I put a quarter on her desk, even though she's not worth it. And I left her a note on her desk that said 'Nancy, Bigo was there , you b—-," Barnett said in the interview.
He testified at his trial and sought to downplay his actions, saying he was 'just in the moment' and 'just kind of going with the flow', according to at the Associated Press.
The AP reported that he also testified that "I probably shouldn't have set foot on the desk," but he insisted he was "pushed" into the Capitol by others.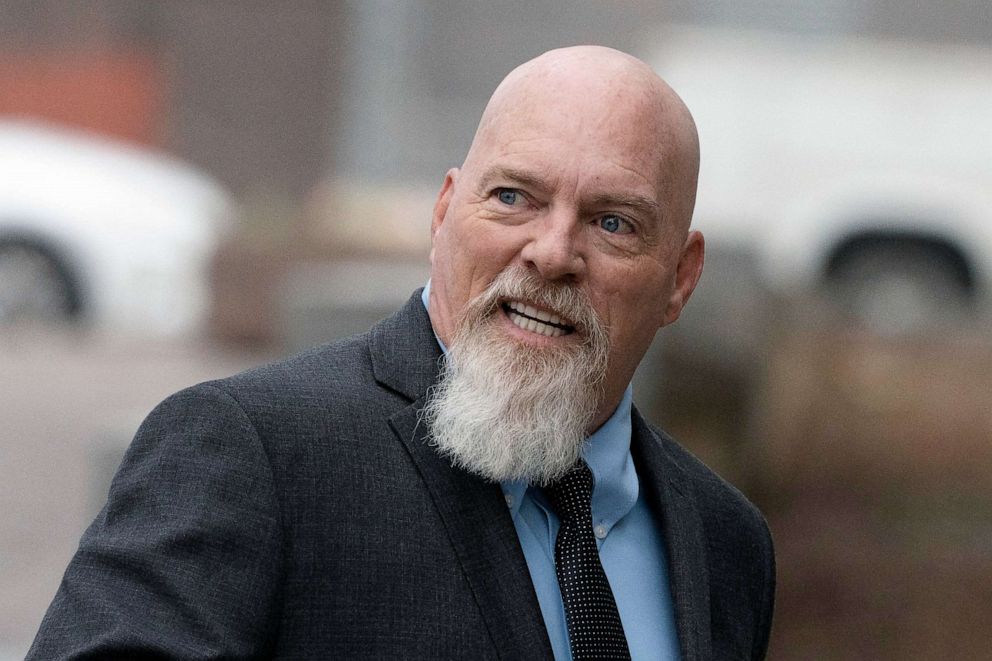 Questioned Monday in court by journalists after the verdict, Barnett complained he did not receive a fair trial, but it is unclear whether he will seek to formally appeal the jury's decision.
Barnett, who remains free pending sentencing, could face years in prison for a felony – his sentencing is set for May 3.