Winter weather returns to the region on Tuesday evening with a mix of rain and snow that will turn to snow.
QUIET DURING THE DAY TUESDAY
Tuesday will be calm during the day with increasing cloud cover throughout the morning. Eventually it will become overcast with highs in the lower to mid 40s.
SNOW TRACKING
Precipitation is expected to begin late Tuesday evening with a rain/snow mix that will turn to snowfall overnight. The time should be around, or after, 7 p.m. for much of middle Missouri. The snow will continue through Wednesday with most of the snow accumulation ending Wednesday at noon. Light showers will remain possible for much of the day.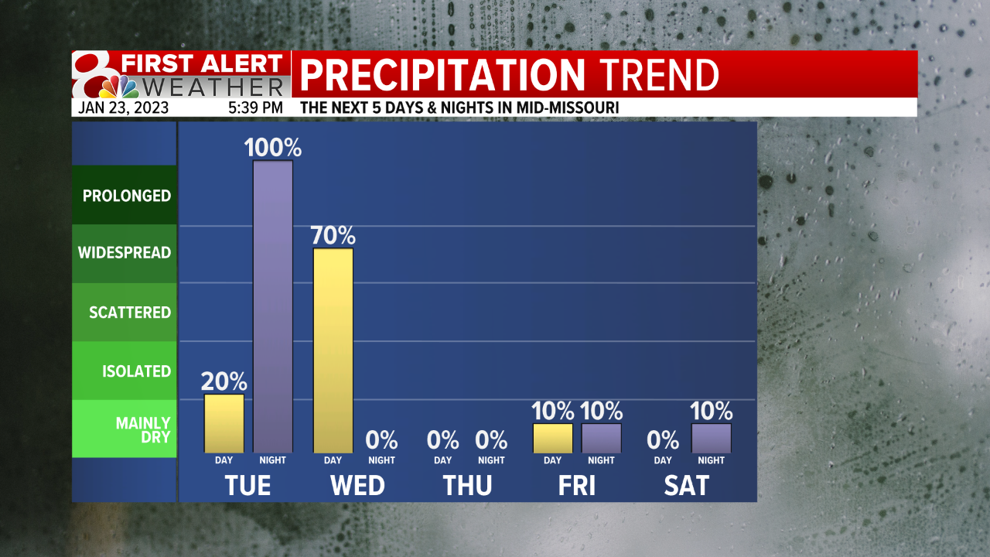 The system is due to a low pressure system that will cross southeastern Missouri. Since this low pressure system is going to be a good distance away, we will see lesser impacts for much of the region. The greatest impacts will be in areas along and south of I-44 where a winter storm warning is in place.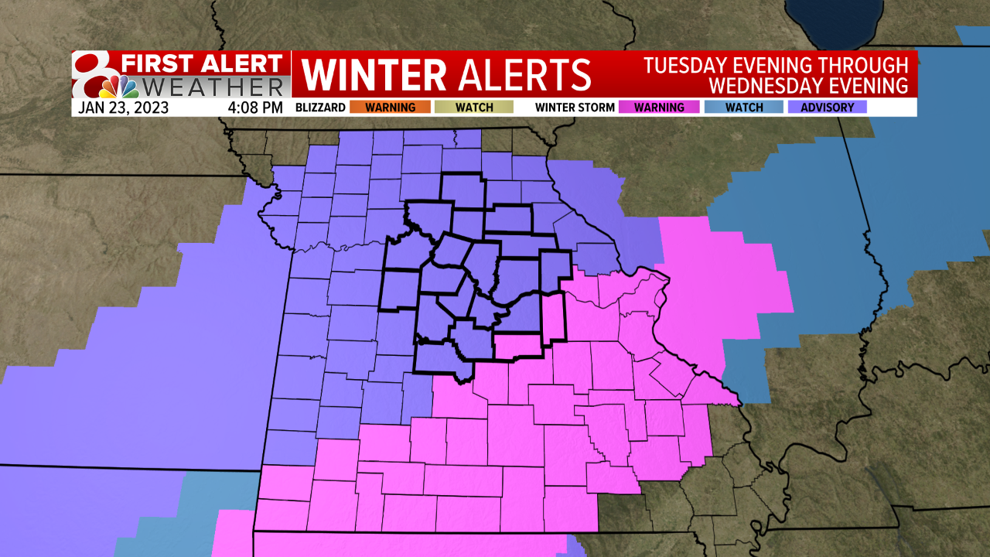 SNOW TOTALS AND UNCERTAINTY
This system is still about a day away, but it is expected to be a larger storm for the southeastern parts of the state. Temperatures are expected to range in the low to mid 30s during this event, which means wet snow that will even melt once it falls. We'll also need to watch for any dry air that might intrude into this storm, but that shouldn't be a primary factor.
Most of central Missouri should see 2 to 4 inches of snow. A few areas of locally higher amounts cannot be ruled out as you head south.
Snow totals in the range of 4-7+" will be possible for areas along and south of I-44, including all of southern Missouri, Rolla, Lake of the Ozarks and metro St. Louis. Snowfall rates could approach 1″ per hour during the early morning hours near I-44. Travel along this highway is likely to be difficult.
Northwestern areas of the state may only see an inch or so of snowfall.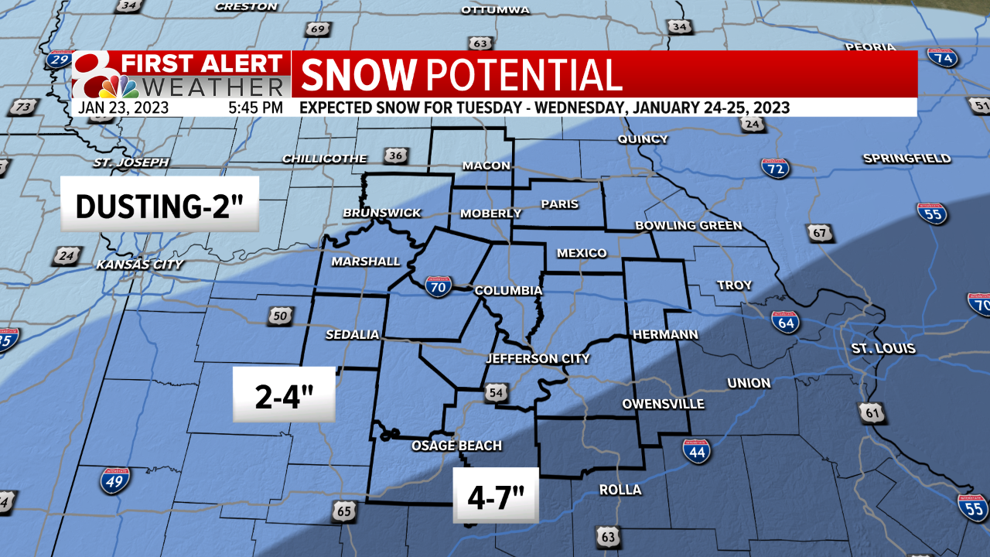 The KOMU 8 storm mode rating will be at 3 for this event, which means we expect problems, especially for areas south of Hwy 50 near I-44. It won't be a big snowfall, but it will likely slow travel Wednesday morning, especially for southern parts of the region.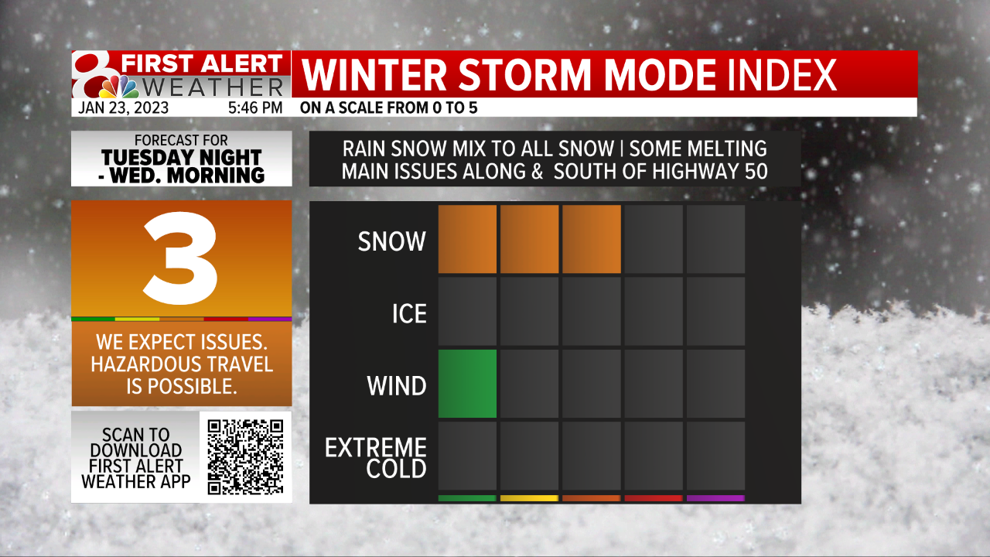 TRAVEL IMPACTS
Movements will likely be good through Tuesday evening, but conditions will begin to deteriorate overnight through Wednesday morning. When the snow starts, the roads will initially be wet and covered in slush, but should be covered in snow by Wednesday morning.
Road crews will likely struggle to pre-treat pavement due to this rain-starting system, which would wash away the treatment.
Travel is expected to be at its worst Wednesday morning. The snow will end by noon on Wednesday, so conditions should start to improve in the afternoon and evening due to the work of road crews and temperatures above freezing.
It would be a good idea to clear your car, driveway, sidewalk, etc. Wednesday afternoon when temperatures are above freezing. The heavy, wet snow will freeze over Wednesday evening and will be much more difficult to manage on Thursday.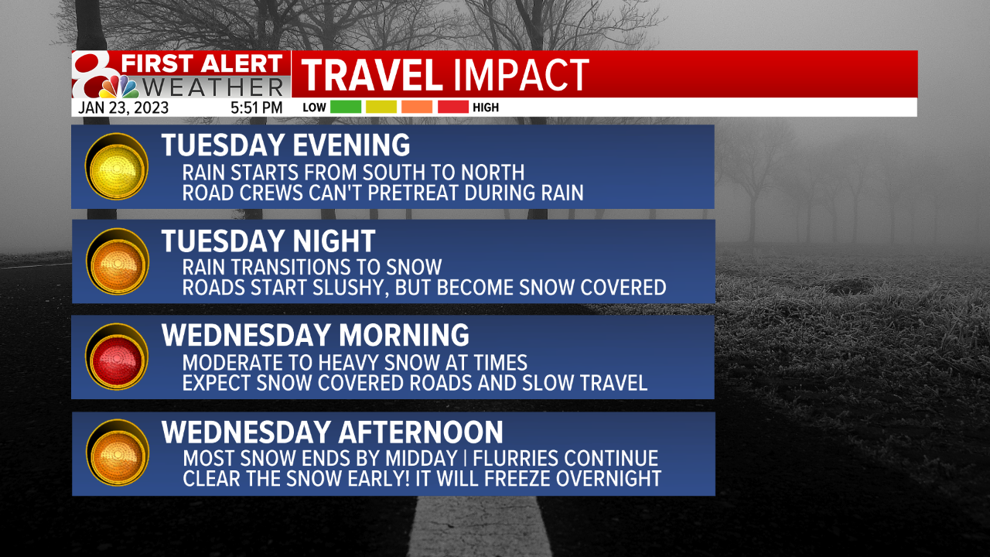 LOOK AHEAD
Thursday will be a cool day with morning temperatures in the mid 20s and highs in the 30s under cloudy skies.
We will warm up Friday and Saturday causing a good snow melt before another chance of rain/snow returns on Sunday.